San Diego's Premier Long Range Sportfishing Boat
$500 saves your spot on any trip. Book online now!
What to Expect
On each EXCEL trip you can expect to find a highly knowledgeable and accommodating crew to make your journey aboard the EXCEL an enjoyable and memorable one. They know when it's time to relax and take a load off, and when its time to fish hard.  You can expect to have a relaxing and exhilarating trip of a lifetime that is sure to exceed all of your expectations.
Upon Departure:



On the day of your departure, please arrive at the dock two hours early.  This will allow you time to check in, board the vessel and get settled in.  As the boat leaves the port, the Captain and crew will have an orientation to introduce everyone, go over safety equipment and outline what to expect for the duration of your trip. Depending on the length of trip, the first few days may be spent traveling to your destination, trolling along the way.  Once you reach your destination, expect to have world class fishing!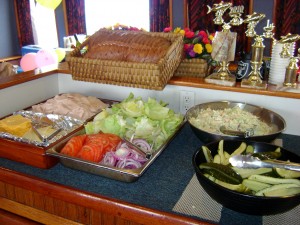 Meals:

EXCEL customers can expect three delicious meals daily, professionally prepared by our expert chefs.  Before dinner, relax and enjoy hors d'oeuvres, and expect fresh fruit, snacks, beverages and beer to be available in the lounge at all times. It is our number one goal to make you feel at home and as comfortable as possible, so please do not hesitate to ask the EXCEL crew for anything you might need.
Mother Nature:



Keep in mind that you are traveling through Mother Natures' unpredictable forces, so expect changes in the weather and sea conditions.  While the EXCEL is equipped with modern stabilization features, we recommend that you take the necessary precautions and come prepared with the seasickness remedy of your choice. The EXCEL is equipped with all of the luxuries of home, however we want everyone to have an enjoyable fishing experience, and so we ask you to please check the weather forecast for your time frame and pack accordingly.